---
Ancient Precursor to The Thinker Unearthed in Israel

On This Site
Share This Page

---
Follow This Site



November 23, 2016
An ancient precursor to Rodin's iconic statue The Thinker has been found in a grave in Israel.
The statue is 3,800 years old and features a hat-wearing man with one hand to a cheek and the other hand resting on a knee, as if in a pensive pose, the Israel Antiquities Authority (IAA) said. Archaeologists found the 7-inch-tall ornament atop a jug in a Bronze Age, alongside arrowheads, daggers, and an axe head. Researchers said that those items were likely to be funerary offerings. Also found were the bones of donkey and sheep.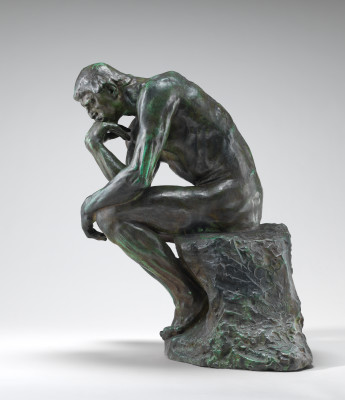 The jug on which the figure sits is typical of the period, the IAA said, but the figure is unique. The researchers found no writing amongst the discoveries, in Yehud, so clues as to the statue's purpose and creator could be difficult to discover.
Rodin's bronze statue appeared in 1904, as part of a larger museum sculpture. The Thinker shows a man in a slightly different, yet still reflective, pose.