Israeli Evacuation Focus Turns to West Bank
---
August 23, 2005
Now that all Israeli settlers have been removed (forcibly or not) from all 21 settlements in the Gaza Strip, Israeli soldiers turned their efforts to areas in the West Bank, another hotly disputed area. On Tuesday, soldiers concentrated on Homesh and Sanur, two settlements in which force was often needed to remove settlers. In one instance, soldiers had to use a crane and a giant container to pluck about 300 reluctant settlers from the roof of an old fortress in Sanur.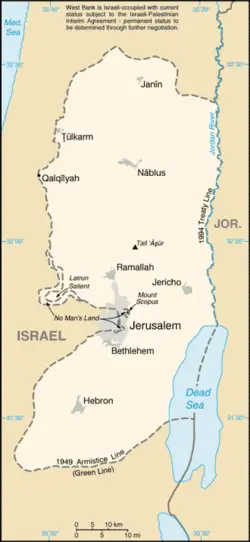 The first two settlements to be addressed were Ganim and Kadim. Operations there were more peaceful than the onees in Homesh and Sanur, where soldiers came under attack in a few cases. As with the Gaza settlements, soldiers were scheduled to demolish the settlers' homes to make way for Palestinians to move in.
Those four provinces mark the final areas targeted by Israeli Prime Minister Ariel Sharon as being essential to moving forward in the Middle East process. Sharon's counterpart, Palestinian leader Mahmoud Abbas, called Sharon to offer congratulations and thanks. The two men are to meet in the near future to discuss going forward.
One of the major disputed areas between the two peoples is still Jerusalem, claimed by both the Jewish and Muslim religions as either a religious capital or a very important city. No mention of that dispute has been made in any recent discussions or statements.
---

Social Studies
for Kids
copyright 2002-2014,
David White
---