Iraq After the War
---
Part 2: Geography and the Rest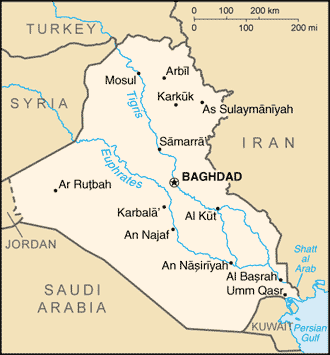 3. Geographic. Much of northern Iraq is controlled by Kurds, people who have been the target of many of Saddam Hussein's ill will. Many Kurds also live in southwestern Turkey, along the that country's border with Iraq. Many people feel that the Kurds might want their own country. If they get it, then that would certainly change the geography of Iraq by removing a large portion of its northern territory. Another by-product of the war is that the sands and cities and towns of Iraq are full of battlefield leftovers--downed planes, blown up tanks and other kinds of vehicles, and demolished buildings and other structures. The buildings will have to be demolished or rebuilt; the vehicles will have to be removed.
4. Infrastructure. This is a big word that means lots of small things that make up a big thing. It is often used to describe things like cities and countries. Many of Iraq's cities are in disarray, with lots of damaged or demolished buildings, streets, sewer systems, electrical systems, etc. All of these things will need to be rebuilt in order for the new Iraq to succeed as a country. The same is true for airports and seaports damaged by Coalition bombs.
5. Iraqi citizens. Already, the people of Iraq are resenting the fact that soldiers from other countries are still in their country. Now that Saddam Hussein is no longer in power, these people want foreign troops to leave. These same foreign troops, though, have kept the peace in ways like preventing bank robberies and keeping hospitals safe for injured people to be treated.
All in all, the nations of the world face great challenges in building a new Iraq.
First page > Politics and Economics > Page 1, 2
Graphics courtesy of ArtToday
---
Custom Search

Social Studies
for Kids
copyright 2002-2014,
David White
---