---
Missing 'Inverted Jenny' Up for Auction

On This Site
Share This Page

---
Follow This Site



April 17, 2016
The up-and-down saga of the "Inverted Jenny" has a new upside, as one of America's most famous postage stamps is again up for auction.
The stamp, a well-known mistake that netted its original owner a large sum of money and has gained subsequent owners even more, is a 1918 example of a printing error: The 24-cent stamp clearly shows an airplane upside down.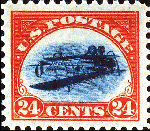 The stamp was printed to celebrate the introduction of air mail in the United States. The original owner, stamp collector William Robey, bought a sheet of 100 stamps at a Washington, D.C, post office before the printers realized the error and stopped production on the upside-down model. Robey paid $24 for the 100 stamps. He later sold the sheet for $15,000.
The newest known example of this stamp, known as the "Inverted Jenny" in part because it showed a Curtiss JN-4H "Jenny" biplane, was stolen from a collector's convention in 1955. The stamp is now up for auction at Spink USA, in New York.
The current owner, an unidentified man from the United Kingdom, is much too young to have done the theft: He is in his 20s, and he says that he inherited the stamp from his grandfather. Authorities are still following up that lead.
The stamps are both the "Inverted Jenny" 1918 misprint, 24-cent airmail stamps that show a plane flying upside down. Ethel McCoy, whose father was a co-founder of the Dow Jones company, bought the four-block set in 1936, paying $16,000.
The two missing stamps were part of a block of four that went on display in September 1955 at the American Philatelic Society convention in Norfolk, Va.Two of the block of four have turned up in the 1970s and 1980s. The Society's Research Library had offered a reward of $50,000 a stamp for the remaining two; the reward expired in September 2015.
The last known known sale was in 2007, when an anonymous bidder bought one of the stamps for $977,500. The last four-block sale occurred in 2005, and the amount paid for that block was $2.7 million.