Inflatable Concert Hall to Tour Tsunami-ravaged Japan
---
October 8, 2013
A massive inflatable concert hall will tour areas of Japan wracked by the 2011 Sendai Earthquake and resulting tsunami.
Dubbed Ark Nova by its creators, sculptor Anish Kapoor and architect Arata Isozaki, the showcase of this year's Lucerne Festival is 59 feet tall, 90 feet wide, and 96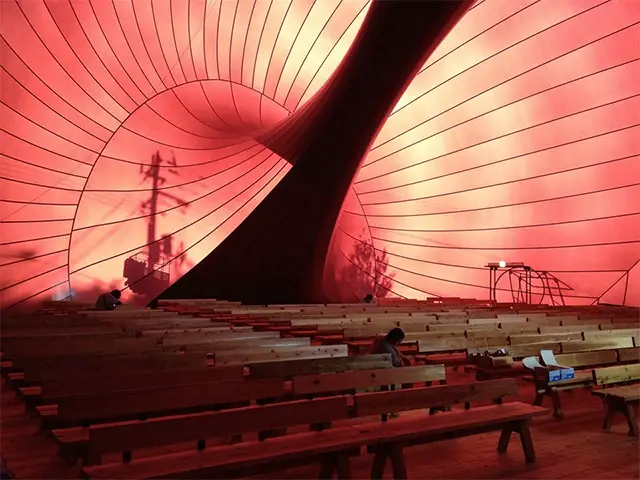 feet long. The giant purple shape resembles a parachute inside and takes two hours to inflate. The hall will seat up to 500 people, who will sit on benches made from tsunami-damaged cedar trees at the Zuiganji Temple in Matsushima.
That city will be one of the venues for a series of concerts, events, and workshops throughout the country. The creators named it Ark Nova, which they take to mean "New Ark," referencing Noah's Ark, in the tradition of the famous builder from ancient times and religions. This latest "Ark" is meant to be a symbol of hope, the creators said, for a region that is still suffering the devastating effects of the twin disasters.
Hundreds of thousands of people were forced to leave their homes. Many, many of those people have still not returned. The devastating floodwaters of the tsunami wiped homes, businesses, communities, and whole towns off the map. Japan's economy has struggled as a result.
Kapoor is known for similar creations in other countries and for ArcelorMittal Orbit, a skyscraping art work featured in London's Olympic Park in 2012. Isozaki is known for buildings in Japan and out, most recently Qatar's national convention center.
Custom Search
Social Studies for Kids
copyright 2002-2014,
David White
---