Jamaican Completes Iditarod Dog Sled Race
---
March 23, 2010
Newton Marshall has done it. The young 26-year-old from Jamaica (a country not exactly known for its cold weather) has become the first nonwhite musher to complete the 1,100-mile Iditarod sled dog race.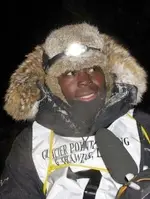 Marshall certainly didn't win. No, that honor went to Lance Mackey, who won his fourth straight Iditarod, finishing in 8 days, 23 hours, 59 minutes.
Marshall didn't finish last, either. And he definitely didn't pull out, as 16 other competitors did. No, Marshall survived bouts of frostbite, struggles with exhaustion, and a possible revolt among his dog team to finish in 14:04:27, officially in 47th place.
Marshall, from Jamaica, is competing in the Iditarod Trail Sled Dog Race. The 26-year-old is the second non-white competitor in the history of the epic 1,049-mile race.

The race began on Nov. 7 in Willow, Alaska, and finished in Nome, when Mackey raced across the finish line. Mackey had helped Marshall train.

The Jamaica Dogsled Team began in 2005, and one of its main backers is singer Jimmy Buffett, who planned to have a reception to honor Marshall once he returns home.
The only other black musher in the famous Alaska race was Barry MacAlpine, who competed in the first Iditarod, in 1973. He didn't finish.

Route map

Social Studies
for Kids
copyright 2002-2014,
David White
---