Jamaican Racing Iditarod Dog Sled Race
---
March 10, 2010
Jamaica is a long way from Alaska, but that's the journey that Newton Marshall has made.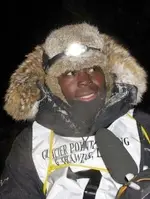 Marshall, from Jamaica, is competing in the Iditarod Trail Sled Dog Race. The 26-year-old is the second non-white competitor in the history of the epic 1,049-mile race.

The race began on Nov. 7 in Willow, Alaska, and will finish when the first team races across the finish line about 10 days later, in Nome. Of the 71 teams, 22 are headed by rookies like Marshall. The odds-on favorite to win is Lance Mackey, who has won the past three years. Mackey has been helping Marshall train.

The Jamaica Dogsled Team began in 2005, and one of its main backers is singer Jimmy Buffett. The goal was always to run a team of dogs in the Iditarod, and team operators always knew that someone from Jamaica would find it hard going to adapt to and thrive in the sub-zero temperatures of the "Last Great Race on Earth."

Marshall has trained hard, though, recently completing the 1,000-mile Yukon Quest International Sled Dog Race, between Fairbanks, Alaska, and Yukon Territory's Whitehorse, in 2009. He and his 16 dogs (including lead dog Larry) finished 13th out of 29 competitors.

After a ceremonial opening in Anchorage, the mushers travel to the smaller town of Willow, where the race officially begins. On the way to the finish in Nome, they race through wind and cold, snow and ice, small villages and large urban areas. Each year, the race alternates between the northern route and the southern route. They share the same 444 miles, then split for about a third of the distance, then rejoin. Race officials added the southern route in 1977, to help alleviate yearly pressures on the smaller towns along the northern route. The southern route also passes through the town of Iditarod. The race runs on the northern route in even-numbered years and on the southern route in odd-numbered years.

Mushers must sign in at each checkpoint along the way. The northern route has 26 checkpoints; the southern route has 27 checkpoints.
Typical gear for an Iditarod team includes headlamps, batteries, sled parts and tools, extra booties for dogs, and plenty of food for everyone. By and large, teams decide on their own how long they want to go without stopping. The race has three mandatory stops: one eight-hour stop at White Mountain, one eight-hour stop any checkpoint along the Yukon River, and one 24-hour stop at any checkpoint.

The winner can finish in as few as 10 days. The Red Lantern, or last-place finisher, can take more than two weeks. Alaska's Rick Swenson has won the event five times out of the 20 times he has entered. Susan Butcher has four wins to her credit. (She was the second to win; the first was Libby Riddles, in 1985.) Martin Buser, Doug Swingley, and Jeff King have also won four times.

The course record was set in 2002 by Switzerland's Buser, who finished in 8 days, 22 hours, 46 minutes, and 2 seconds.

The only other black musher in the famous Alaska race was Barry MacAlpine, who competed in the first Iditarod, in 1973. He didn't finish.

Route map

Social Studies
for Kids
copyright 2002-2014,
David White
---