Dallas Seavey repeated as champion of the Iditarod Trail Sled Dog Race, winning the 2015 event in 8 days, 8 hours, 13 minutes, and 6 seconds.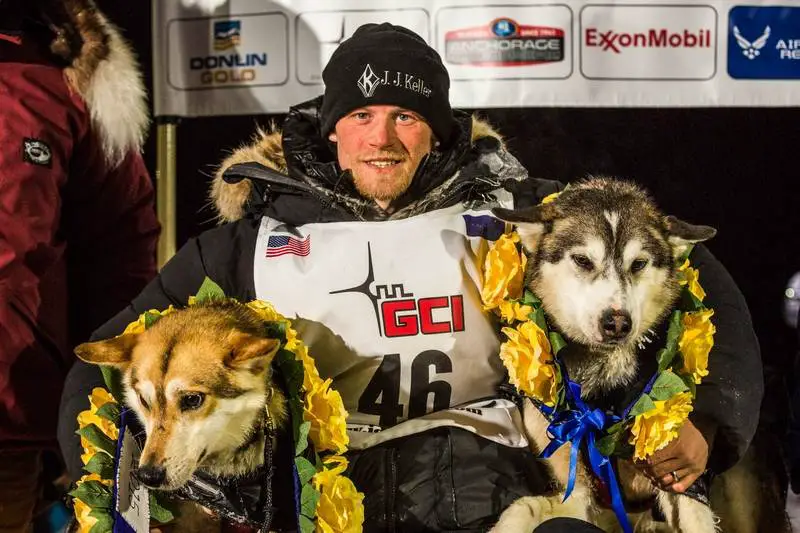 Seavey (left), who at 25 was the youngest-ever champion when he won in 2012 and set the course record in 2014, was quite happy just to finish in Nome, after an unseasonably warm winter created new obstacles for mushers. Race organizers moved the start from Willow to Fairbanks and changed the race route as well. Early on, a snowmobile sank on thin ice. But as the mushers settled in to racing, winter weather returned.
Seavey finished ahead of his father, Mitch, who won in 2004 and in 2013 (when, at 53, he became the race's oldest winner). Mitch Seavey finished 4 hours back.
Aaron Burmeister was third, his highest-ever finish.
Dallas Seavey's win was his third in four years. Lance Mackey won the race four straight times, in 2007–2010. Susan Butcher won three in a row, in 1986–1998, and then won again in 1990. Doug Swingley won three in a row, in 1999–2001, after winning his first in 1995. Five-time winner Rick Swenson won in 1977, 1979, 1981–1982, and 1991. Jeff King won his four in 1993, 1996, 1997, and 2006.
For his winning efforts, Dallas Seavey received the keys to a new pickup truck and $70,000.
Of the 78 mushers who started the race on March 9 in Fairbanks, 69 finished. Eight mushers withdrew, and one was disqualified.