Female Musher Leading Iditarod
---
March 11, 2012

If Aliy Zirkle keeps her lead, she will be the first woman to win the Iditarod Trail Sled Dog Race since Susan Butcher in 1990.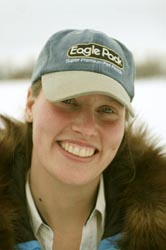 Zirkle, of Two Rivers, Alaska, was the first musher to drive her team of dogs to Norton Sound, a tiny community on the state's west coast. The effort gained her $2,500 in gold nuggets and a golden cup. The 11th-place finisher last year, she planned on extending her lead on the run in to Nome.

Nearly one hour back was Dallas Seavey, one of three generations of Seaveys racing in this year's Iditarod. Third place belonged to Nome's own Aaron Burmeister, and defending champion John Baker was in fourth, just 90 minutes off the lead.

Dallas Seavey, 25, was the youngest-ever competitor in 2005. He finished fifth last year. His father, Mitch, won the race in 2004. He's racing again this year at age 52. His father, Dan, is 74 and ran in the original race, 40 years ago.

Dan Seavey, who finished fifth in the original 1973 race, is racing again this year to celebrate the centennial of the Iditarod Trail, a National Historic Trail that featured a number of mining camps, settlements, and trading posts during Alaska's Gold Rush, which ran roughly from 1880 to 1920. Seavey will make special presentations at several communities along the route.

The race begin on March 4, with a ceremonial start in Anchorage and the real start in Willow. The winner is the first to reach Nome, 975 miles away. First prize is $50,400 and a new truck. Prize money, given out to the top 30 finishers, totals $550,000.

Of the 66 teams that started, 61 are still in the race. Baker holds the course record of 8 days, 19 hours.

The total purse is $550,000 for the first 30 finishers, with the winner receiving $50,400 and a new truck.

Social Studies
for Kids
copyright 2002-2014,
David White
---