Ice Hotel Freezes Over for 25th Year
---
November 30, 2014
Celebrating its 25th anniversary in 2014 is ICEHOTEL, Sweden's famed tourist attraction that offers large sculptures, scenic vistas, and (of course) hotel rooms made of ice.
Situated inside a 60-square-foot igtoo in the remote village of Jukkasjarvi, ICEHOTEL literally changes every year. Warming temperatures melt all of the ice, leaving behind only water.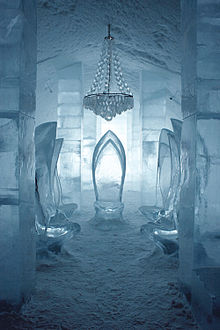 The hotel was born in 1992, when enterprising organizers of an art exhibition catered to artists's wish to sleep inside the frozen exhibition hall. The igloo, exhibition, and town are all on the Torne River, which freezes quite a bit throughout the calendar year. Construciton of ICEHOTEL has become such an enterprising that the builders hoard their ice, harvesting 5,000 tons of ice from the Torne River and storing it nearby, in cold storage, of course. In November, several dozen workers get work designing that year's hotel, which includes 65 rooms that span a wide range of pricing and luxury. One such luxury room in 2014 contains a sculpture of the Aurora Borealis. The priciest room on offer has the name "Song of Lotus," and its high ceilings and walls feature sculptures of lotus flowers and flamingos.
All rooms feature the same very cold ambience, with temperatures regulated at 23 degrees Fahrenheit, to keep the ice from melting. Beds are made of ice. Hotel guests wear hats and gloves and sleep in thermal sleeping bags, underneath heavy blankets.
The hotel also offers cold-weather activities like dog sledding, snowshoeing, and snowmobiling.
Sweden's is not the only such made-of-ice hotel in the world. Others can be found in Canada, Finland, Japan, Norway, Romania, and Sweden:
Quebec's Hotel de Glace, outside Quebec City, has 36 guest rooms and features an ice chapel, an ice bar, and an ice slide.
Also in Canada is Snow Village, in Parc Jean-Drapeau, east of Montreal. (This 30-room ice hotel is made from human-made snow.)
The Sorrisniva Igloo Hotel, near Alta, Norway, has 30 guest rooms and suites and boasts an ice chapel and ice bar, with an adjacent (non-frozen) sauna and hot tub area.

The SnowHotel, near Lainio, Finland, has 15 double-igloo rooms and eight ice suites, with adjacent log cabin restaurant that serves hot food.
Finland is also home to the Kirkenes Snowhotel, which is inside the Gabba Reindeer Park, near Finnmark, and to the SnowCastle of Kemi, the world's largest snow fort, which has a hotel that includes a honeymoon suite.
The Alpha Resort Tomamu is on Japan's Hokkaido Island and features ice beds, tables, and chairs (with plenty of sheepskin).
Romania's Balea Lake Ice Hotel features large sculptures and other cold-weather activities like skiing, sledgind, and snow biking.
Gstaad, Switzerland, has an igloo village, which features overnight rentals.
Custom Search
Social Studies
for Kids
copyright 2002-2014,
David White
---