Hollywood Sign Neighborhood Saved from Developers
---
February 9, 2010
"And cut!"

That's the message that a nature conservation group has given big-time developers who wanted to buy up land surrounding the Hollywood sign in California.

Will Rogers, president of the Trust for Public Land, says his group has an option to buy the rights to Cahuenga Peak, a large area of land covering 138 acres from which one can stand and see the historic white letters spelling out the world's most recognizable film industry.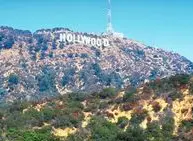 The land, once owned by industrialist Howard Hughes, had remained undeveloped, as part of a trust that Hughes set up, until recently being targeted by Fox River Financial Resources, a Chicago area development firm. Fox River had obtained zoning rights to divide the land into four sites on which to build luxury homes. Fox River granted the option to the Trust for Public Land, which has raised $6 million so far and has until mid-April to get the rest of the original asking price, which was $22 million. A fundraising drive has begun. Among the activities planned is a stunt that covers the Hollywood sign with letters that read "Save the Peak."

Rogers says that if his group is successful, they will turn of the land to the City of Los Angeles, so the land can be incorporated into neighboring Griffith Park – which most residents assumed was already the case.
---

Social Studies
for Kids
copyright 2002-2014,
David White
---