Teen Creates Melt-in-your-Mouth Hiccup Cure
---
May 12, 2012

A 13-year-old girl from Connecticut has solved a problem that has plagued people for ages: hiccups.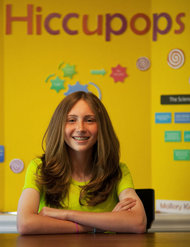 Mallory Kievman, a frequent sufferer of the dreaded hiccups, had tried all of the usual cures, including swallowing saltwater, holding her breath while drinking fresh water, eating a spoonful of sugar, drinking water while she was upside down, and even sipping on pickle juice. Kievman got little satisfaction from any one of those and about a hundred other cures, and she was determined to find one, and one only, that would work for her.
What she came up with through experimentation and determination is a lollipop that does the trick. She calls them Hiccupops.
The Hiccupop consists of a mixture of apple cider vinegar and sugar mixed into a lollipop. Sucking on one cured Kievman's hiccups. She did the experiments in her family's Manchester, Conn., kitchen.
Technically, a hiccup is a reflex to a heightened state of nerves in the mouth and throat, usually an irritation of the diaphragm caused by sucking in too much air for the diaphragm to handle. Kievman's lollipop acts to counteract that reflex, stopping the urge to hiccup.
Kievman wasn't satisfied with curing just one person's hiccups, even if they were her own. She took her invention to a convention for kids, where she met an entrepreneur who helped her set up her own company. Large amounts of Hiccupops should be available this summer to chronic sufferers, including chemotherapy patients.
---

Social Studies
for Kids
copyright 2002-2014,
David White
---