Manziel 1st Freshman to Win Heisman Trophy
---
December 10, 2012
Texas A&M quarterback Johnny Manziel became the first freshman to win the Heisman Trophy, college football's highest individual honor.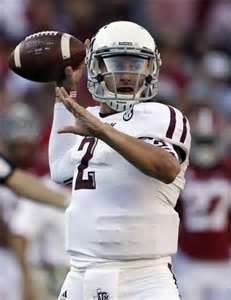 Manziel garnered 474 first-place votes on a ballot filled out by former Heisman winners and members of the media. Notre Dame linebacker Manti Te'o finished second, and Kansas State quarterback Collin Klein was third.
During his acceptance speech, at Times Square in New York, Manziel said he grew up watching famous quarterbacks on television. One he named in particular was Doug Flutie, whose last-second Hail Mary touchdown defeated Miami and earned him a place in football history as a Heisman winner and then a pro quarterback.
The top three vote-getters were invited to the awards dinner, along with some of the game's historic elite. Manziel's points total was 2,029, outdistancing the total of Te'o (1706, with 321 first-place votes) and Klein (894 and 60). Te'o would have been the first pure defensive player to win the award, which has been given annually since 1935. Named for pioneering Georgia Tech football coach John Heisman, the award went that first year to University of Chicago halfback Jay Berwanger.
Manziel was the second Texas A&M player to win the award. The first was John David Crow, in 1957.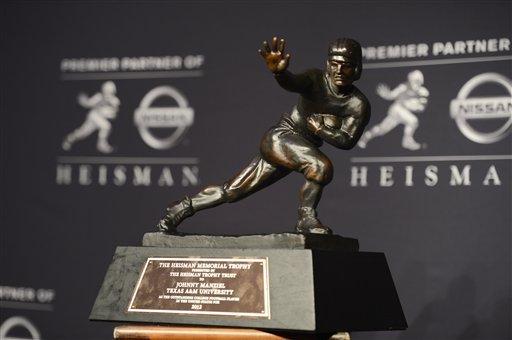 Manziel was officially the first freshman to win the award, although he was technically a redshirt freshman. Redshirt freshmen opt to practice with the team but not play in any games, giving them, in effect, an extra year of experience without using up a year of eligibility. (College football players, like other student-athletes, are allowed four years of eligibility.)
The highest previous finish by a freshman was second, achieved by Oklahoma running back Adrian Peterson in 2004, when USC quarterback Matt Leinart won the award.
Manziel amassed 4,600 total yards, 3419 passing and 1,181 rushing. He scored 43 touchdowns (24 passing).
Not thought to be a contender before the season began, he posted tremendous numbers throughout the season and rose to front-runner status after engineering his team's upset of then-top-ranked Alabama.