Harry Potter 1st Edition Breaks Auction Record
---
May 22, 2013
An author-annotated first edition of the first Harry Potter book has sold for $228,000, the highest ever paid for a book featuring "the boy who lived."
An anonymous bidder agreed by telephone to pay 150,000 British pounds for the copy of Harry Potter and the Philosopher's Stone. The book contained annotations from the author, J.K. Rowling, with 43 pages of notes on her creative process, including how she invented the game of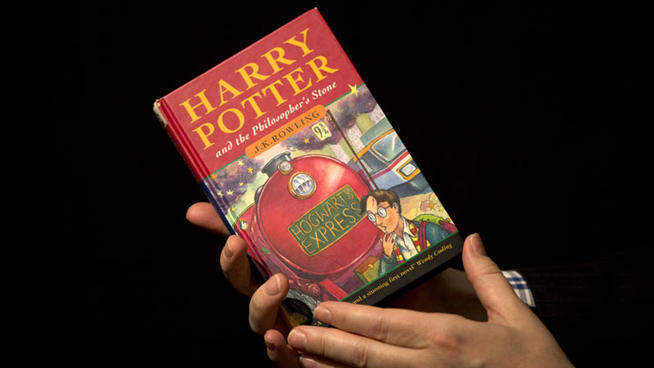 Quidditch, the soccer-like game in which players ride brooms through the air rather than run on the pitch.
Also between the front cover and the back cover of the book known in America as Harry Potter and the Sorcerer's Stone were dozens of original Rowling illustrations, including one of Harry Potter as a baby and a collector's card featuring Albus Dumbledore, the headmaster of Hogwarts School of Witchcraft and Wizardry, which Harry attends for his magic training.
The sale was part of a London charity auction that also featured first editions of books by well-known children's author Roald Dahl (whose Matilda sold for $45,500), Kazuo Ishiguro (whose The Remains of the Day brought in $27,300).
The charity sale, which also featured books by Seamus Heaney, Ian McEwan, Lionel Shriver, and Yann Martel, brought in $666,310. One beneficiary was the British charity English PEN.
Social Studies
for Kids
copyright 2002-2014,
David White
---