Unrest Spreads, Evacuations Begin
---
January 19, 2010
Civil unrest continued to spread in Port-au-Prince, Haiti's capital, a week after the powerful earthquake that shook the city, demolished hundreds of buildings, and killed tens of thousands of people.

An estimated 73,000 people have received a week's food rations, but many more still need sustenance. Another commodity in high demand was fresh water, which was definitely in short supply. A water main that broke suddenly was the center of attention, with people struggling to capture some much-needed water in buckets, their hands, or whatever else was available.
Lines for aid continued to be long, with tempers flaring and the need for maintaining order increasing. An estimated 4,000 U.S. troops are now patrolling the city, supporting efforts by Haitian police and U.N. peacekeepers. Ban Ki-Moon, the U.N. Secretary General, requested an additional 3,500 security officers to help police the chaotic city.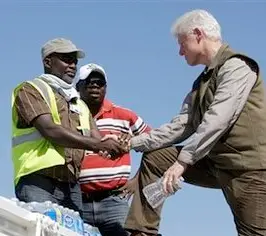 Also arriving on Tuesday was former U.S. President Bill Clinton, the U.N. special envoy to Haiti. Clinton and former President George W. Bush have been working in the U.S. to help coordinate relief efforts from that country. Clinton's wife, U.S. Secretary of State Hillary Clinton, was on the ground in the capital late last week.

The sheer number of people still without proper food, medicine, and clothing was staggering to many observers, especially in the wake of a huge outpouring of giving from people around the world. On Tuesday, the European Union Commission pledged 330 million euros in emergency and long-term aid. That is on top of the 92 million euros already pledged from EU states, including a promise from France to erase Haiti's debt of 40 million euros. Similarly, the United States has pledged aid in the tens of millions.

The main obstacle to more Haitian people getting more assistance continues to be the crumbling infrastructure that was only made worse by the powerful 7.0-magnitude quake. The city's airport is rather small by world standards and was designed to handle dozens of flights a day, not the hundreds that have been on standby lately, carrying much-needed food and first aid. U.S. forces are speedily increasing the airport's landing capacity.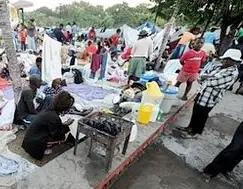 Images on television newscasts and in photos continue to show tens of thousands of people living in tent cities. One such temporary shelter was an aid camp set up on the city golf course, where 50,000 people have been sleeping for the past week. The World Food Program is planning a similar tent city to house another 100,000 people left homeless by the quake.


Space agencies of several countries have turned their satellites toward Haiti, taking pictures in order to help relief agencies concentrate their efforts on the hardest-hit areas. The result is a "damage elevation map," with the severest damage shown in red. (Click here for an enlarged map.)

One piece of good news emerged on Tuesday, as two people were pulled out of the rubble alive. The number of survivors rescued from rubble pales into comparison to the number of dead (which many people now think will exceed 100,000), but such episodes gave small hope to the rescuers, who vowed to keep on working in their dogged pursuit of more people trapped but alive.

Large numbers of people, not wanting to wait any longer for aid, began to leave Port-au-Prince, either for other cities in the country or for other countries. A steady stream of buses carried thousands of Haitians out of the capital on Tuesday, and the number of people trying to leave the country multiplied.

Another movement began: evacuations to the U.S. Several airplanes that had brought relief supplies to Haiti returned to their American bases with hundreds of refugees onboard.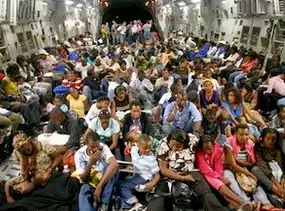 Social Studies
for Kids
copyright 2002-2014,
David White
---