Tents Dominate Port-au-Prince Landscape
---
January 26, 2010
A common symbol of the survivors of Haiti's 7.0-magnitude earthquake continued to be the tent. Hundreds of thousands of people left homeless by the massive quake have taken to living in tent cities, either in their own neighborhoods or on city lands like the golf course or other areas set up by international
organizations. Another 1 million were in line to receive tents from relief organizations. Haitian President Rene Preval, back in the public eye after the Presidential Palace was flattened in the earthquake, issued an urgent call for at least 200,000 more tents. Preval himself was living in a tent, on the lawn of what used to be the Presidential Palace.

More tent cities were being built, a sign that the rebuilding of Port-au-Prince is far from being begun in earnest. One main component, heavy equipment such as bulldozers and cranes, was in short supply, mainly because most of the main roads into the capital city remained jammed, either from crowds or from rubble. Jean-Max Bellerive, Haiti's Prime Minister, estimated that his country lost 60 percent of its gross domestic product in the quake. That left a country already awash in poverty even less able to help itself.
The government confirmed that at least 150,000 people died in the capital city. That number was expected to rise as more and more dead bodies continued to be found buried in the rubble. Cities several miles away had reported thousands of deaths as well. Government officials in Port-au-Prince declared an end to the search-and-rescue efforts on Saturday, 11 days after the quake flattened much of the city.
Many people continued to sell food in the devastated capital city, although fewer and fewer people had money left to buy the food.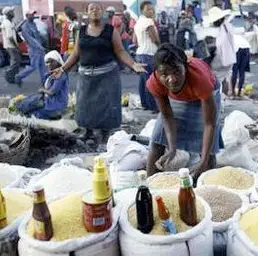 Along with many government buildings, the capital city's main cathedral met an untimely end in the quake, taking with it the lives of Archbishop of Haiti Monsignor Joseph Serge Miot and chief vicar Charles Benoit. Mourners by the thousands gathered near the remains of the cathedral on Sunday to honor the dead, including the two prominent church officials. Funerals had been few and far between, with most people being buried in mass graves.

Aid continued to stream into Port-au-Prince, thanks in part to the completion of repairs to the port and to the completion of the retrofitting of the airport to allow more flights.

Social Studies
for Kids
copyright 2002-2014,
David White
---