Red Cross Raises $103 Million
---
January 20, 2010
The American Red Cross has reported donations toward relief in Haiti of $103 million, nearly $22 million from the organization's text-messaging donation system. Among
the many highlights were a push by the National Football League, which donated promotion time during televised broadcasts of games. Red Cross officials said that donations peaked at half a million dollars an hour.

Such efforts added to the well-publicized promotions by celebrities and professional athletes, including Major League Baseball.
President Barack Obama, the honorary chairman of the American Red Cross, and First Lady Michelle Obama visited the Disaster Operations Center in Washington, D.C., on Monday, to congratulate workers on their success. The President sent his first-ever Twitter message, personally thanking the Red Cross workers for all they had done. The Obamas had also contributed a televised address and a YouTube promotion.

The Red Cross has already put the money to good use, delivering food, blankets and other clothing, hygiene kits, and other basic supplies to the refugees in the rubble-strewn streets of Port-au-Prince.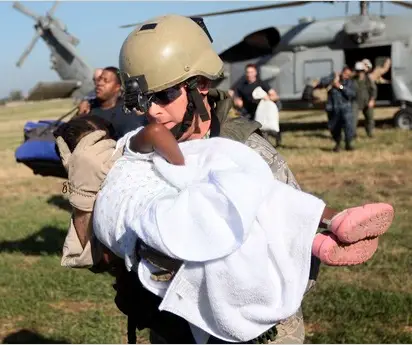 Relief efforts continue to make some semblance of progress, with many injured people being airlifted to safer areas. Work continued on improving the city's airport's ability to receive flights containing food and medicine.

Social Studies
for Kids
copyright 2002-2014,
David White
---