Widespread Damage Frustrates Aid Efforts
---
January 18, 2010
The mood in Port-au-Prince continued to be bleak for tens of thousands of people left homeless by last week's 7.0-magnitude earthquake.

Amid the rubble of collapsed buildings and roads, slums and mansions, people displayed frayed patience and fervent prayers. The number of people thought to be living outside, whether from having their homes reduced to rubble or from fears of an aftershock, was thought to be 300,000.


The amount of aid pledged by governments, private organizations, and people around the world numbered in the tens of millions of dollars. Large ships containing were lined up offshore, awaiting instructions for how to disperse the fresh food and water so desperately by those trapped in an increasingly isolated capital city. Planeloads of aid were being diverted or postponed because the capital's airport lay in ruins. Work on the port and the roads had commenced, but it was certainly slow going.

Support on the ground for the relief efforts ran thin, as the Red Cross, Doctors Without Borders, and other international aid agencies struggled to get to people at all and then to treat them with any semblance of hygiene. An inflatable hospital meant to be delivered by plane was instead delayed by a full day when it had to be transported overland from the neighboring Dominican Republic.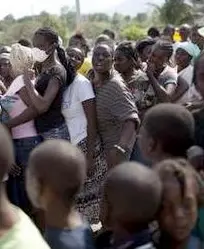 Many people continued to calmly wait their turn in lines for food, medicine, and clothing. However, looting was common in some parts of the city, as national police and a few thousand U.S. troops struggled to keep the peace with increasingly bold gangs. About 4,000 prisoners escaped when the walls of the city's main prison collapsed during the quake.

Rescue workers numbering in the thousands have reported pulling more than 70 people alive out of the rubble, but that number pales in comparison to the death toll, which is thought to have already exceeded 50,000.


Many people have voiced their displeasure with President Rene Preval, one of only a large handful of government officials who survived the quake, which toppled the Presidential Palace and several other government buildings. Preval, for his part, has tried to reassure people that help is on the way, although he has not given an official on-air address since the quake.

Also difficult to distribute has been word of what is on the way. Haiti's already fragile communications network suffered a heavy blow as a result of the earthquake, and many news organizations are turning to handheld radios to keep people informed.

Social Studies
for Kids
copyright 2002-2014,
David White
---