Millions Needing Help after Haitian Quake
---
January 14, 2010
The number of Haitians needing assistance has topped 3 million, according to estimates from international aid organizations. Much-needed relief began to arrive in Port-au-Prince, Haiti's beleagured capital city, on Wednesday. Countries around the world have sent money, food, and aid workers, but all but the barest of medical aid has been slow to arrive. Homeless survivors have set up camp amidst the rubble, awaiting assistance of any kind.
Much of Port-au-Prince lies in ruins as the result of a 7.0 magnitude earthquake that struck near the capital city a few minutes before 5 p.m. on Tuesday. The quake caused widespread damage to large numbers of buildings, including the Presidential Palace.
The United Nations has pledged $10 million from a relief fund. The United States has dispatched two warships full of troops and supplies, with orders to distribute food and other aid. The United Kingdom is also sending aid, in the form of an aid mission coming from the neighboring Dominican Republic.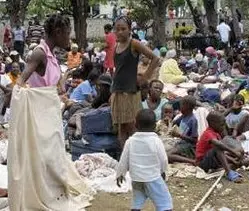 Looting continues, despite the best efforts of a 9,000-member U.N. peacekpeeing patrolling the streets of Port-au-Prince. Many of the capital's most impoverished residents have seen their survival of an earthquake that has wiped out so many homes and other people as an opportunity to better their allotment in life.
That attitude was not always the dominant one, however, as many reports spoke of people gathered in crowds singing and praying, anticipating help but enjoying being still alive.

Social Studies
for Kids
copyright 2002-2014,
David White
---