Aid Still Outpacing Recovery
---
February 2, 2010
Millions of dollars in aid had now reached Port-au-Prince, the capital of Haiti, in the wake of the Jan. 12 earthquake that killed hundreds of thousands of people and left many more homeless and in search of food and proper medicine. Yet people were still in search of a decent meal and a solid night's sleep.
Despite the record funds raised in telethons, donations, international pledges, and traditional bake-sale small-scale events, large amounts of aid continues to go unused. The main reason continues to be the inadequacy of the city's airport and port. Both were damaged in the quake; the airport was small to begin with.
Refugees in large numbers had fled the capital city and the country, in search of more sustenance in other countries. Thousands had arrived in the United States, trying desperately to either reunite with family members or start a new life. One group of Americans had been ararested for attempting to take a busload of undocumented children out of Haiti and into the neighboring Dominican Republic. The purpose of the transport wasn't immediately clear, but none of the Americans had papers to support their story.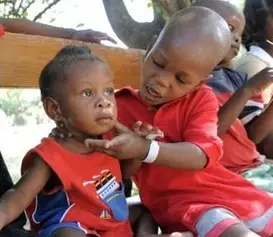 Large efforts to raise more money continued. Former U.S. President Bill Clinton was put in charge of an international group to secure more in pledges of physical aid and money for the starving and homeless in Port-au-Prince.
Also notable was the announcement by famed music producer Quincy Jones that the world-famous song We Are the World was being remade, with earnings to go directly to relief efforts in Haiti. Among the musical luminaries participating in the star-studded collaboration were Wyclef Jean, Kanye West, Lionel Richie, Celine Dion, Miley Cyrus, Snoop Dogg, Lil Wayne, Tony Bennett, and Barbara Streisand.

Social Studies
for Kids
copyright 2002-2014,
David White
---