Major Celebrities Raise Major Cash for Haiti
---
January 26, 2010
Celebrities banded together in record numbers during the weekend during a two-hour telethon to raise money for victims of the Haitian killer quake.


Actor George Clooney was the main host of Hope for Haiti Now: a Benefit for Earthquake Relief, which aired on all major TV networks, on many large- and small-market radio stations, and on the Internet.

Among the Hollywood celebrities taking donations by phone were Julia Roberts, Steven Spielberg, Reese Witherspoon, Halle Berry, Matt Damon, Clint Eastwood.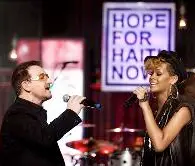 Several famous musicians performed, including Madonna, Beyonce, Alicia Keys, Wyclef Jean (who is from Haiti), Paul Simon, Jennifer Hudson, Sheryl Crow, and Justin Timberlake. U2's Bono and the Edge performed a new song, Stranded (Haiti Mon Amour), written to raise funds for earthquake victims.

The telethon raised $57 million.

Social Studies
for Kids
copyright 2002-2014,
David White
---