Aid Finally Flows in to Port-au-Prince
---
January 21, 2010
It has taken a week, but large amounts of much-needed aid were finally being delivered on Thursday to desperate survivors of Haiti's massive earthquake.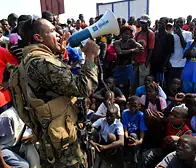 For the first time, a stready stream of food, water, and medicine could be seen flowing in from the port and the airport to the tens of thousands of people barely hanging on in their tent cities and their on-the-street communities. The millions of dollars in aid that had been pouring in on planes, boats, and the backs of trucks was finally able to vault the logistical hurdles that had been in place because of the earthquake damage and the country's already crumbled infrastructure.
In recent days, some flights had been turned away or rerouted to neighboring countries, including the Dominican Republic, there to transfer their payloads to methods of overland transportation, which slowed the delivery of the aid. Efforts by the U.S. Military to increase the capacity and effectiveness of Port-au-Prince's airport were instrumental in the new flow of aid. Also a big help was an Internet-based system for itemizing the aid and coordinating the arrivals of aid flights, which peaked at 180 a day.
The flow of aid into Port-au-Prince was a welcome sight for the thousands of international aid workers working frantically to care for the injured and feed the hungry.

Social Studies
for Kids
copyright 2002-2014,
David White
---