Aid Trickles in to Devastated Haiti
---
January 15, 2010
Foreign aid (including an initial pledge of $100 million by U.S. President Barack Obama) has begun to come in to Port-au-Prince in the wake of Wednesday's 7.0-magnitude earthquake.

In fact, the main airport had to urge the suspension of American aid flights for a time because the torrent of aid had overwhelmed airport staff. The port, damaged in the quake, is unable to receive more than a small amount of aid-carrying ships. Then there are the roads, which are bad shape in the best of times; after the quake, many are unusable.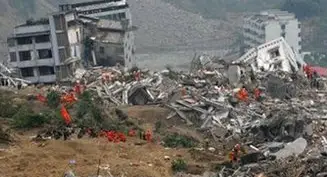 Rescue teams continue to try to sort through the heavy rubble, searching for survivors trapped underneath structures, but the rescue is slow going without heavy machinery that is in high demand but low supply.

One estimate said that the capital might be without electricity for a few days more. Telecommunications have been sporadic when they worked at all.

Little signs of a functioning government have emerged. Many government officials are believed among the dead. The Presidential Palace itself was hard hit in the quake.

The powerful quake had flattened a large prison in the capital, and prisoners had escaped into the rubble the crowds.

U.N. peacekeepers and other international officials are still patrolling the city, but national police are few and far between on the streets. A few thousand American soldiers are due in by the end of the weekend.

An estimated 3 million were affected by the quake. The International Red Cross fears that the death toll could be as high as 50,000.

Social Studies
for Kids
copyright 2002-2014,
David White
---