First Lady Visits Haiti
---
April 13, 2010
First Lady Michelle Obama and Second Lady Jill Biden visited the Haitian capital, meeting with government officials but also touring some of the hardest-hit areas of Port-au-Prince.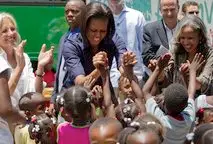 A U.S. Army helicopter gave Obama and Biden a visual tour of the devastation, and then the U.S. Government representatives met with Haitian President Rene Preval and his wife, Elisabeth, inside the presidential palace, itself a victim of the powerful 7.0-magnitude earthquake that rocked the capital and surrounding areas on January 12.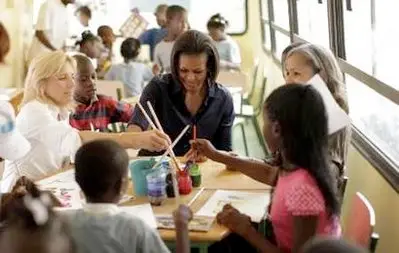 Obama and Biden also visited a child care facility, whose residents treated the high-profile visitors to songs in English and Creole.

Efforts to house the homeless, treat the sick and injured, and rebuild the capital city and surrounding countryside continue unabated, in the wake of a death total topping 220,000 and a homeless toll still well exceeding 1 million. "Tent cities" continue to dot the horizons, as the people of Haiti struggle to put their lives back together after the latest in a long line of disasters to befall the country in recent years. United Nations peacekeepers are still working with Haitian police to keep the peace, now that troops from many other countries (including a 20,000-strong contingent from the U.S.) have left the area.

Aid continues to arrive as well, with the rebuilt port and retooled airport better able to handle the continual influx of assistance from UNICEF, the Red Cross, and other high-profile aid agencies. Donations from private individuals have trickled off but are still coming in.

The visit of the First and Second Ladies of the United States (their first solo trip since their husbands were sworn in as President and Vice-president) was meant to reinforce America's commitment to continue to help Haiti rebuild, the White House said in a statement. Such words and the deeds behind them will no doubt be welcome to the people on the ground and in the streets of a still-devastated Port-au-Prince as they prepare for a usually problematic rainy season, which usually features a hurricane or two before it runs its course.

Social Studies
for Kids
copyright 2002-2014,
David White
---