Flag Day Brings Mixed Feelings in Haiti
---
May 19, 2010
In the wake of growing discontent with crushing poverty exacerbated by the Jan. 12 earthquake, Haitian President Rene Preval tried to deflect criticism of his government's reaction to the crisis as he paid his annual visit to Arcahaie to commemorate Flag Day, the country's second-most-sacred holiday.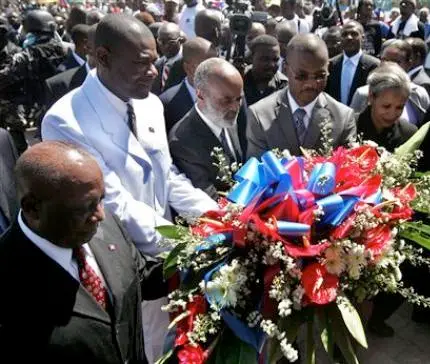 Preval, who has been elected and re-elected, is scheduled to step down when his current terms ends on Feb. 7, 2011. However, he has recently said that he would continue serving as the country's leader if the presidential election scheduled for November doesn't take place. In a speech recently, Preval said he would be willing to remain as president for up to three months. Protests against Preval's handling of the post-quake crisis have increased in recent days, with many people calling for his ouster and for the return of former president Jean-Bertrand Aristide, now in exile.

The situation is further complicated because at the moment, only one-third of Parliament has been elected. The election planned for February was canceled in the wake of the massive earthquake, which killed tens of thousands and left homeless many more. So the other two-thirds of Parliament need to be elected and seated, and then a new president needs to be elected. Both of those tasks are taxing for governments in "normal" years; getting them both done in the wake of rebuilding of government buildings and databases might prove extremely difficult.

Flag Day marks the day in 1803 when the revolutionary congress made
their country's new flag, by removing the white part of the French red-white-blue tricolor that so symbolized the European country's domination of the Caribbean island (and enslavement of its people) for so many years. Flag Day, May 18, is also two days before the birthday of Toussaint L''Ouverture, the man who led the revolution.

Flag Day is traditionally a day of revelry, and many Haitians were certainly making the most of an opportunity to forget, even for a day, how much worse their lives got on January 12.

Social Studies
for Kids
copyright 2002-2014,
David White
---