Frederick Douglass Statue Unveiled in U.S. Capitol
---
June 20, 2013
Frederick Douglass literally stands tall in the nation's capital.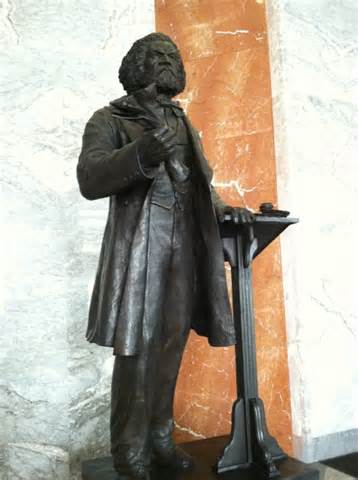 Douglass, one of the American abolitionist movement's most fiery voices, has taken his place alongside statues of representatives of America's 50 statues in the U.S. Capitol, representing the District of Columbia. For many years, each state has had two statues in the Capitol but the District of Columbia has not. That changed after a Congressional vote in May, championed by D.C. Congresswoman Eleanor Holmes Norton.
Douglass himself lived in the District for many years after Reconstruction. He was a U.S. Marshal. He was a Recorder of Deeds. He was living in Washington when he died in 1895.
The bronze statue is 7 feet tall and shows the bearded Douglass in a regal pose, standing atop a three-foot marble pedestal. The combined weight of statue and pedestal is 1,700 pounds. Vice President Joe Biden was among those to speak at a ceremony unveiling the statue. Attending were some of Douglass's descendants.
Representatives of the 50 states have objected to granting D.C. the right to have two statues inside the Capitol and so a statue of Pierre L'Enfant, an architect who contributed most of the design for the nation's capital city, stands elsewhere but nearby, at One Judiciary Square. In fact, the Douglass statue is inside the Capitol only after years of debate. The District of Columbia is represented in Congress but not with voting rights. Douglass had long championed full status for D.C.