Steve Fossett: The Search Resumes
---
September 1, 2008

The search is back on for Steve Fossett, whose solo flight over western Nevada on Labor Day weekend in 2007 ended with the celebrated adventurer missing and eventually declared dead.

Fossett, known for his pioneering efforts in many fields of physical accomplishment, took off in a plane by himself and never returned.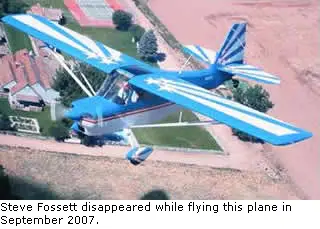 Teams searched 20,000 square miles in the days and weeks after Fossett was declared missing, but no signs of the man or his plane were found. Fossett's widow, Peggy, has already poured more than $1 million into search efforts and has said that she supports the latest search as well.

Fossett was the first person to successfully circle the world alone in a balloon. A keen aviator and sailor, he set world records in planes, gliders, and boats.

He also climbed several well-known mountain peaks, finished the Iditarod dog sled race, swam the English Channel, finished the 24 Hours of Le Mans sports car race, completed a 100-mile running race, and finished an Ironman triathlon.

Click here to see an extensive list of his records and accomplishments.
---
Custom Search

Social Studies
for Kids
copyright 2002-2014,
David White
---