Town Rises from Depths
---
March 1, 2010
A drought caused by a severe weather pattern has done what former residents of a former town could not – defy the national government.

Potosi, a Venezuelan town that was flooded intentionally in 1985 so the resulting reservoir could power a hydroelectric dam and provide electricity to the surrounding countryside, is back on the map. The worst drought in decades has resulted in a precipitous drop in water levels. The Uribante Reservoir now has an incredibly low water level, and some of the 1,200 people who used to live there have come back to see the sites of their former homes, now lost to the memories of time.


The one exception is the town church, which stands tall if skeletal as a reminder of the sometimes vibrant buildings that used to surround it. The church is 85 feet tall. The reservoir was nearly that deep, so only the church steeple was visible. (The steeple was used as a high-water mark for the reservoir.)

Now, however, with Venezuela in the midst of the devastating drought caused by an El Nino (the same weather pattern that is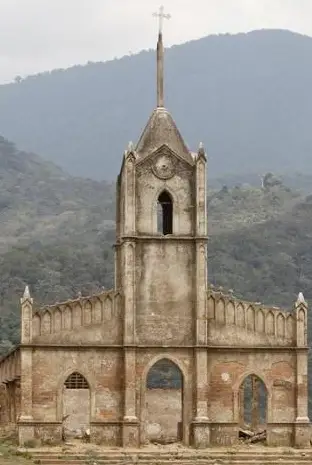 hammering the U.S. with heavy snow and rain), waters have receded, leaving the remains of the church completely visible and the surrounding countryside lush with fertile land. In February, President Hugo Chavez, faced with his country's worst-ever energy crisis, declared an electricity emergency, fining people and businesses that don't cut back on their consumption. Venezuelans are also being told to conserve water.

The Potosi town cemetery is visible again, a reminder of times past, as are remains of a few houses and the town square. If the water level falls another 10 feet, national officials say, the dam will be useless, unable to power the Leonardo Ruiz Pineda hydroelectric plant, the third-largest in the country. The plant is already operating at less than 10 percent of its capacity, and the water level still continues to drop. Nearby residents have been rationing their water use, which has lessened the speed of decline in water level.

Earlier this year, officials reported a 3-degree increase in average temperature. Possible causes include deforestation and global warming.

Social Studies
for Kids
copyright 2002-2014,
David White
---