Ill Boy Throws Telerobotic First Pitch from Miles Away
---
June 14, 2013
A teen boy with a rare blood disorder threw out the ceremonial first pitch at a baseball game, from 1,800 miles away.
Nick LeGrande, an ardent fan of the Oakland Athletics baseball team, has severe aplastic anemia and spends a lot of time at Children's Mercy Hospital in Kansas City, Mo. Nick and his family live not far away. Nick is a big baseball fan but is not so much a fan of the local team, the Kansas City Royals. His team is the Oakland A's. And he was able to deliver the first pitch at a Yankees-A's game at the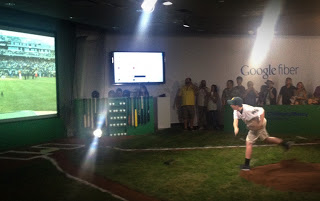 Oakland Coliseum, using a telerobotic pitching machine.
The A's player who caught that first pitch was reliever Ryan Cook, who found about Nick's situation through family connections. Google and the A's got together to make it all happen. Google helped build a miniature baseball field at Nick's home. The field had bleachers and even some grass from the Royals' home, Kauffman Stadium.
Nick took the mound, with his family and friends and doctors in the stands, and threw a baseball in a straight line across an electronic sensor, which transmitted a signal to a pitching machine on the mound at the Oakland Coliseum, and the machine threw a strike to Cook at home plate. A video showing Nick's story flashed on the screens in Oakland before the first pitch, and the crowd roared right through the pitch. Nick saw it all through a livestream from the Oakland camera to the pitching machine in Kansas City.
Cook promised to get all of his A's teammates to sign the ball and then present it to Nick when the A's travel to Kansas City, in a few weeks.
Nick has his own website: http://fiber.google.com/about/nicksfirstpitch/ and his own Twitter hashtag: #NicksFirstPitch.
Custom Search
Social Studies
for Kids
copyright 2002-2014,
David White
---