---
Chips off an Expensive Block

On This Site
Share This Page

---
Follow This Site



October 24, 2016
Potato chips for $56? How many do you get? How about only 5?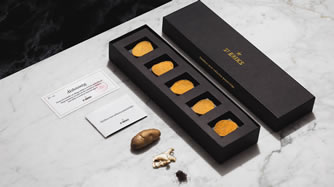 That's the special set of tasty snacks on offer from St. Erik's brewery in Sweden. The price is so high because the chips are filled with specialty ingredients, including truffle seaweed, matsutake mushrooms, a special kind of wort, and (the main ingredient) potatoes grown only in a certain place on the planet.
The creators, chefs at the Swedish National Culinary Team, took special pride in creating the specialty chips. A set of 5 comes in its own box, accompanied by a document of authenticity.
The price tag is 499 krona, which is roughly equivalent to $56. A round number of 100 specialty boxes have been made, and the brewery says that all proceeds will go to charity.