Cell Phone to Save Ancient Language
---
November 12, 2004
Ethiopic, an ancient language that is dying out from lack of use, could be on the rebound, thanks to modern technology used on cellular telephones.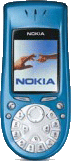 The language, which ceased to be a spoken language in the Middle Ages, has been problematic for computers and cell phones in the past because the alphabet has 345 letters. Scientists in Ethiopia and the United States have perfected a method for making that alphabet available for text messaging (known as short message service, or SMS). First, they cut the 345 letters down to the most common 210; then, they created a base alphabet of 28 letters on a cell phone. Users will have to press some buttons several times, paging through an onscreen menu of letters, in order to type certain words (just as English-speaking users do to enter people's names in cell phone address books).
Why all the fuss? Ethiopic is still used for Ethiopian literature and in Ethiopian Orthodux Church services. And the letters are used for Amharic, the country's national language. Ethiopia, with its 70 million people, is the third-largest country in Africa and the only one to have its own alphabet still in wide use.
Cell phones have spread across the world, especially to areas that do not have regular telephone lines. Ethiopia has many large cities, but it also has a large rural population. The SMS additions should make communication more prevalent and keep alive a language that has been used for hundreds of years.
Graphics courtesy of ArtToday
---
Custom Search

Social Studies
for Kids
copyright 2002-2014,
David White
---