Etch-a-Sketch Inventor Dies
---
February 3, 2013
The inventor of the Etch-a-Sketch® has died. Andre Cassagnes, a French electrician who for years was not listed as the venerable toy's creator, was 86.
Cassagnes was born near Paris in 1926 and lived much of his life in and around France's capital city. His first notable job was at the family bakery, but he discovered that he was allergic to flour and so had to find other work.
He joined a small company that made coverings for seats and picture frames. He worked there until he retired, in 1987.
An assistant electrician, Cassagnes used a production process that included aluminum powder. It was during one such work session in the late 1950s, when he was peeling a decal from a switch plate, that he discovered that an electrostatic charge could hold that aluminum powder to glass. His pencil marks had made the journey from one surface to another. He put some different elements together, and the prototype was born.
He called it the "Telecran" (telescreen) and showed it off at the 1959 Nuremberg Toy Fair. A representative of the Ohio Art Company was so impressed with Cassagnes' invention that he bought the rights to it and got it mass-produced in time for the 1960 Christmas season.
Cassagnes' original design had a joystick for "erasing" the design from the screen; otherwise, the "Telecran" looked remarkably like the "Etch-a-Sketch®." Cassagnes worked with the American company on the final design, which includes a pair of interior nylon strings attached to the front-screen knobs. Turning one of the knobs moves a tiny ball, which creates a black line that can be enhanced as quickly as the human hand can move. Shaking the toy redistributes the aluminum powder, "erasing" the artwork.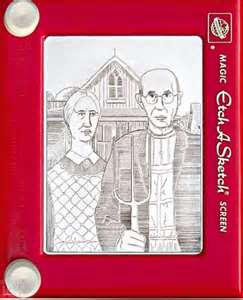 The Ohio Art Company lists Cassagnes as the creator of the toy. The patent paperwork, however, lists someone else. Cassagnes didn't have enough money to pay the patent feet, so he borrowed money from an investor. When this investor went to pay the bill, he sent his treasurer, Arthur Granjean, whose name ended up on the patent paperwork.
Cassagnes, an avid kite enthusiast, went on to create many elaborate kite designs, some of which he displayed using his invention. He was known throughout France for these designs.
The Etch-a-Sketch®, meanwhile, has continued to sell, more than 50 years later. A recent estimate put the production number at more than 150 million. Listed as toy for kids, the Etch-a-Sketch® has been the vehicle for much adult artist creation through the years as well.
The Toy Industry Association lists the Etch-a-Sketch® as one of the top 100 toys of the 20th Century.