Morsi Trial Adjourned for Two Months
---
November 5, 2013
The trial of former President Mohammed Morsi got under way under tight security and lasted all of a day.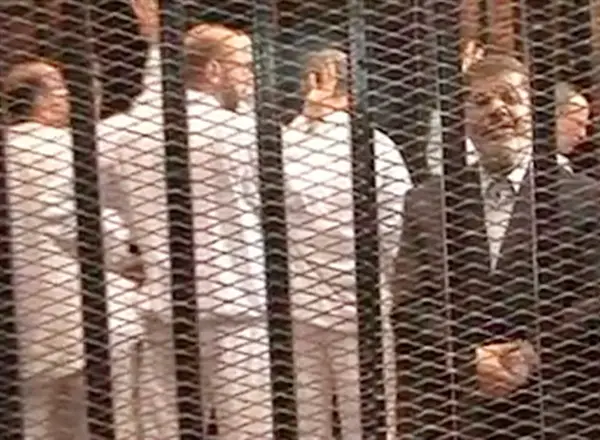 Morsi, in his first public disappearance before being removed from power on July 3, was dressed in a business suit besides his other dozen co-defendants, who wore prison jump suits. All stood in a cage inside the courtroom at the Police Academy, which in a desert area on the outskirts of Cairo, the capital city. The charges against the defendants are inciting violence, stemming from clashes between protesters and Morsi supporters outside the presidential palace in December 2012. A dozen people were killed.
Security was tight around the proceedings, with a few hundred members of the Muslim Brotherhood protesting outside.
Morsi refused to recognize the legitimacy of the judge, the court, or the government, shouting that he was the freely elected leader of Egypt. After a brief adjournment, the judge allowed proceedings to continue and the tone of Morsi's objections were more civil. He called on the leaders of the interim government to present themselves for prosecution instead. Eventually, though, the judge postponed the trial until Jan. 8, 2014.
Morsi and his co-defendants were then taken away, to be held in prison until the trial resumes. Morsi didn't make it that far, spending the night in the hospital at a civilian penitentiary after complaining of ill health. He had been held at a secret military facility since his ouster. Eventually, he will be taken to the Borg el-Arab prison complex near Alexandria. The other defendants will be held at a high-security prison in Cairo.

Social Studies
for Kids
copyright 2002-2014,
David White
---