Morsi to Stand Trial; U.S. Cuts Aid to Egypt
---
October 9, 2013
Mohammed Morsi, Egypt's first freely elected President in decades, will go on trial on November 4, charged with inciting the killing of political opponents while he was head of state.
Morsi has not been seen in public since he was driven from power on July 3. He has been held under armed guard at an undisclosed location and has been visited three times, although not by his family, with whom he has spoken twice.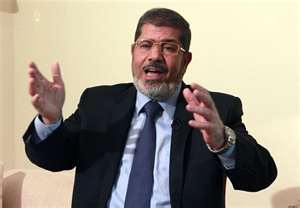 The trial will feature similar charges against 14 members of the Muslim Brotherhood, among them leading members of the group and top aides. The charges stem from a particularly violent day in December 2012, when Morsi defenders clashed with protesters outside the presidential palace. Protesters against Morsi's decree making himself immune from judicial prosecution numbered more than 100,000. Heated arguments between these protesters and members of the Brotherhood turned violent, and hundreds of people were killed.
Morsi lawyer Mostafa Atteyah said he would announce a defense strategy once the defense team received details of the charges from the prosecution.
Since the military of ouster of Morsi and his government, an interim government has steered the country toward a new consitution and new parliamentary and presidential elections. the military has also carried a widespread crackdown against the Brotherhood, arresting and jailing more than 2,000 members of the organization.
Meanwhile, the U.S. Government announced the cessation of hundreds of millions of dollars in aid to Egypt, including a delivery of 10 Apache helicopters. A similar move by the U.S. a few weeks ago suspended delivery of four F-16 fighter jets. The move will not interfere with the continuing shipment of military equipment parts and military training and education that are still occuring between the two countries.
The annual foreign aid contribution from the U.S. to Egypt is $1.5 billion. That figure is not in jeopardy, the U.S. Government said, confirming as well that health and education assistance and security efforts would continue.