Morsi Removed from Power, Detained by Army
---
July 3, 2013
The army has taken control of the government in Egypt, installing an interim head of state and a three-member advisory council to take the place of President Mohamed Morsi.
Morsi, who had refused to give up the presidency under any means, was at one point working inside a Republican guard barracks, which was surrounded by barriers, barbed wire, and armed troops. State newspapers and television stations announced his ouster and later said that he had been taken into custody, with all communication privileges revoked. He and his government are forbidden from traveling outside the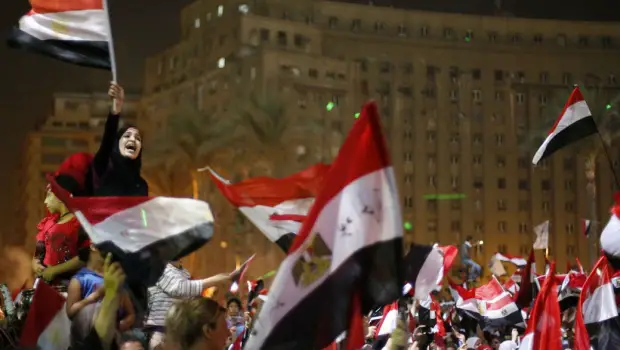 country. Dozens of senior leaders of the Muslim Brotherhood, the country's largest political organization and owner of most of the Islamist majority in Parliament, have been arrested.
Leading the country now is Adly Mansour, the head of the Supreme Constitutional Court. Making up the advisory council are Nobel Peace laureate and opposition leader Mohamed El-Baradei and two religious leaders, the Grand Imam of Al Azhar and the Coptic Pope.
The army had given Morsi 48 hours to announce a power-sharing agreement with the opposition, headed by El-Baradei's National Salvation Front. But El-Baradei and other opposition leaders said that they would refuse any sort of agreement and, in the end, Morsi provided no such announcement.
A large demonstration of Morsi protesters had earlier carried on within sight of armed troops in Cairo. No one was injured. Members of the Muslim Brotherhood had earlier vowed to stand between tanks and their leader. Morsi supporters had earlier clashed with opposition groups in Alexandria, and the result was a violent one, with many people injured.
A spokesman for the Brotherhood termed the military actions a coup. Indeed, troops and tanks were evident right across Cairo. But Defense Minister General Abdel Fattah al-Sisi, in announcing the suspension of the country's constitution, also reiterated support for the civilian-led government, which was to initiate a new constitution-writing process and facilitate new parliamentary elections soon.
In response to Sisi's announcement, crowds in the streets cheered, waved flags, and set off fireworks.
Social Studies
for Kids
copyright 2002-2014,
David White
---