Tahrir Square Again Overflows with Protesters
---
November 27, 2012
Tens of thousands of protesters again filled Cairo's Tahrir Square, echoing mass protests of a year ago, except the target this time was the man they elected.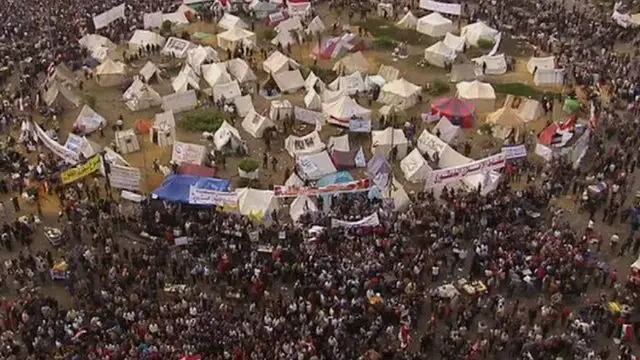 Egyptian Mohamed Morsi refused to rescind his decree giving himself a broad expansion of new powers, including immunity from judicial oversight. Morsi met with the country's top judges but insisted that his new powers would be temporary and limited. The protesters, unconvinced, filled the square, waving flags and chanting anti-Morsi slogans, urging the President to give up his new powers entirely and immediately.
Joining the crowd were lawyers and journalists. Also in the fray were opposition leaders, including Nobel Peace Prize laureate Mohammed El-Baradei, a prominent Morsi critic. A common refrain was a fear of returning to a dictatorship, which many see was the state of affairs under Hosni Mubarak, ousted last year at the hands of the wildly popular Arab Spring uprising. Mubarak, after decades in military-supported power, was forced to flee and later sentenced to life in prison for ordering troops to fire on unarmed civilians.
Similar protests took place in Alexandria and in other cities. Protesters vowed to keep up their efforts as long as needed.
Seeking to avoid a confrontation, the Muslim Brotherhood postponed a planned pro-Morsi rally in Cairo.

Social Studies
for Kids
copyright 2002-2014,
David White
---