Morsi to Meet with Judges to Resolve Dispute
---
November 25, 2012
Egyptian President Mohammed Morsi will meet with senior judges to find common ground amid Mori's recent announcement of a large expansion in his presidential powers.
Morsi, in his first year as the first freely elected President in the country's modern history, last week granted himself expansive new powers, including immunity from oversight by the country's highest levels of the judiciary. His decrees met with harsh and widespread criticism. The stock market fell 10 percent overnight. Thousands gathered in Cairo's Tahrir Square to protest, among them some of the highest judicial officials in the land. The Judges Club, a nationwide group, called for a nationwide strike, and many obliged. The highest group, however, the Supreme Judicial Council, urged judges to stay on the job.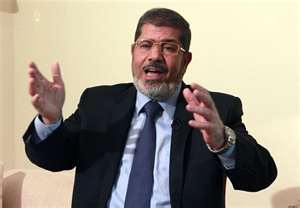 Prominent opposition leaders, including Nobel Peace Prize winner Mohamed el-Baradei, urged Morsi to rescind the decrees. Police fired tear gas to quell the Tahrir Square crowd. Elsewhere, a pro-Morsi crowd gathered to show their support for the President. Protesters damaged the offices of the Muslim Brotherhood in Alexandria, Suez, and other cities. The Brotherhood claims a majority of membership in Parliament. Morsi was a member of the Brotherhood until just after his election as President.
Morsi, meanwhile, insisted that the expansion of powers was temporary and that he wanted to ensure that the new constitution is written in a timely fashion. The document-writing body has struggled in recent weeks to find agreement on wording and concepts. Christians and other liberal members have withdrawn, alleging that the majority Islamists are pushing for a wider role for their religion in the daily life and laws that would be mandated by the constitution. In his decrees, Morsi granted the constitution-writing panel another two months past a looming December deadline to finalize the governmental framework, which must still be approved by nationwide referendum.
The Supreme Judicial Council will meet personally with Morsi to discuss ways forward. Membership on that council and in several other key judicial circles is filled with judges appointed by former President Hosni Mubarak. Morsi's decrees prevent the judiciary from repeating its actions of dissolving Parliament and dissolving the constitution-writing panel.
The stock market drop was estimated at a loss of close to $5 billion, one of the largest since the final days of Mubarak in power.

Social Studies
for Kids
copyright 2002-2014,
David White
---