Egyptian President Vastly Expands Powers
---
November 22, 2012
Egyptian President Mohamed Morsi has given himself far-reaching powers and oversight that some observers say are along the lines of his predecessor, Hosni Mubarak.
Morsi, by presidential decree, said that all of the decisions he has already made as President, and all of the decisions that he will take as de facto legislative authority until the country's new constitution is approved by national referendum, are above the national courts and any other authority. This is the same sort of authority that the Supreme Council of the Armed Forces had during its 16-month rule in the wake of the revolution that ousted Mubarak.
The former president, now serving a life sentence and in failing health, was also targeted for retrial, but declined to order retrials for other top officials of the Mubarak era who have been given light sentences or acquitted altogether.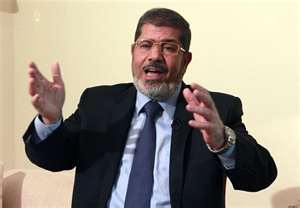 Morsi also fired Egypt's top prosecutor, Abdel-Maguid Mahmoud, who has served in that role since 2006 but had been suspected of favoritism toward fellow Mubarak appointees.
The fate of the constitution-writing panel is uncertain. Among Morsi's decrees was a grant of immunity for the panel, so that it could not be dissolved by court order, as happened earlier this year. The panel at the moment is without Christian and more liberal members, who have withdrawn in protest over what they see as a drive to legislate some very conservative elements of Islamic law. Morsi's decree gave the panel an extra two months beyond a looming December deadline to complete their draft constitution, which must be ratified by national referendum before going into effect.
Another decree prevented any national court from dissolving the upper house of Parliament. The country's highest court dissolved the lower house earlier this year.
Morsi, the former Muslim Brotherhood member who was elected with 52 percent of the vote in the presidential election in June, issued the decrees a day after he played a successful role in brokering a cease-fire between Israeli and Hamas forces in Israel and the Gaza Strip. Morsi's spokesman read the presidential decrees on state television, which then ran a collection of nationalist songs, following a pattern set by Morsi's predecessors in the highest office in the land.
In response, a large group of protesters gathered in Cairo's Tahrir Square, demanding more accountability for Morsi and his government, a majority of which belong to either the Muslim Brotherhood or the far right-wing Salafis. Mohamed El-Baradei, a Nobel laureate and onetime presidential candidate, also spoke out against the decrees.