Large Anti-military Protest Fills Tahrir Square
---
April 22, 2012
Cairo's Tahrir Square was again home to a large protest, as tens of thousands of people gathered to voice their frustration with the country's ruling military council.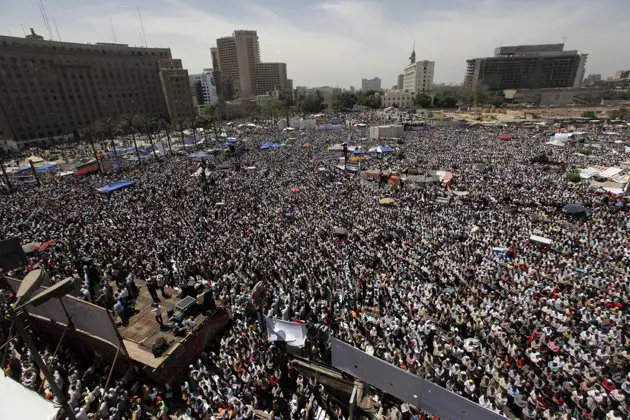 The protest was notable in that included large elements of both the fundamentalist Islamist groups and the more liberal revolutionary groups. This was the case during the largest protests in February 2011 but has not been the norm in the months since.
The Muslim Brotherhood, which won nearly half of the seats in Egypt's recent parliamentary elections, was out in force, calling for a "second revolution," partly in response to the electoral commission's decision last week to disqualify the Brotherhood's hand-picked presidential candidate, Khairat el-Shater, and nine other candidates, including two others who were considered front-runners: Hazem Abu Ismail, the standard-bearer for the Salafis, who make up the second-most powerful contingent in parliament, and Amr Moussa, former head of the Arab League.
The Supreme Council of the Armed Forces has repeatedly promised to hand back to the government power it seized when Hosni Mubarak stepped down as president. The ruling generals have advanced some of the reforms demanded by the people who packed Tahrir Square in February and March 2011, including revoking the dreaded emergency laws under which so many Egyptians were imprisoned or silenced. But the generals have also arrested and imprisoned large numbers of people. Many who spoke out for the downfall of Mubarak are now speaking out for the removal of the generals.
Some in the crowd voiced suspicion that the Brotherhood was using the protest as an opportunity to drum up support for its backup presidential candidate. The Brotherhood, the country's most organized political party, had vowed not to put forward a presidential candidate but reversed itself several weeks ago. Now that Amr has been disqualified because of a criminal conviction — he was arrested for speaking out against the Mubarak government — the Brotherhood is having to back its second choice, Mohammed Mursi, head of the Freedom and Justice Party
Egyptians will vote for president on May 23–24. A runoff, if needed, will take place in time for a final announcement of the new president on June 21.

Social Studies
for Kids
copyright 2002-2014,
David White
---