Morsi Becomes President with Full Military Respect
---
June 30, 2012
Mohammed Morsi took the oath of office before Egypt's Supreme Constitution Court, in the process officially becoming the first freely elected president in the country's history.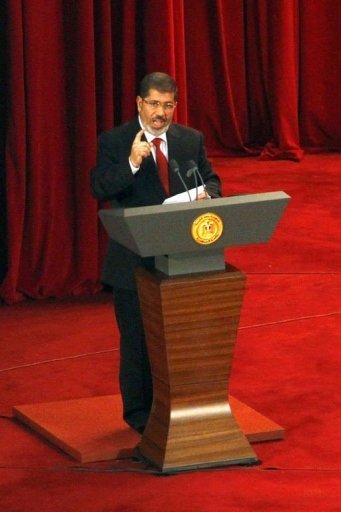 Morsi, who narrowly defeated former Prime Minister Ahmed Shafiq in the runoff election, then gave an inauguration address inside a massive lecture hall at Cairo University (the same one in which U.S. President Barack Obama made his famous Cairo speech). Among the crowd were several members of the now-dissolved Parliament.
The high court will next week consider appeals of the ruling generals' decisions to dissolve Parliament and to name their own 100-member assembly tasked with the country's new constitution. Field Marshal Hussein Tantawi, head of SCAF and the de facto head of government, saluted Morsi and handed him the military's highest honor, the Shield of the Armed Forces.
Tantawi addressed the crowd as well, but it was Morsi that the crowd had come to see. The night before, he had taken the oath of office unofficially before a massive gathering of supporters in Tahrir Square. This time, it was for real and all business.
In his speech, Morsi had praise for the Egyptian military, which has ruled the country for the past 16 months, since the abdication of Hosni Mubarak, but also called for the Supreme Council of the Armed Forces to hand over full power to him and the rest of the elected government. He also apologized to Cairo University students for the disruption his address had caused: Some final exams had to be postponed for the event.
Morsi was treated with full military honors, including a 21-gun salute, a helicopter flyby, and troops at full attention.
The ceremony was not without security. Soldiers and police officers in the hundreds ringed the high court building, and security was notable at the university as well.
Now that he has been sworn in, Morsi must get to work in earnest restoring his country's image in the world. The economy isn't as good as it once was. Indeed, the government is waiting to hear whether the International Monetary Fund will grant its request for a loan of $3.2 billion.
Another cause for delay could be new elections. If the high court upholds the ruling generals' decree dissolving Parliament because one-third of the elected MPs had broken election rules by running political party-affiliated candidates for seats reserved for independent candidates, then that means new parliamentary elections, which could take months to organize. As well, the country still doesn't have a constitution. No matter who writes it, it would still have be to ratified by a referendum, meaning another national election.