Morsi Takes 'Oath' in Tahrir Square
---
June 29, 2012
President Mohamed Morsi spoke in front of tens of thousands of people in Tahrir Square, and his speech included a preview of what to expect in his presidency.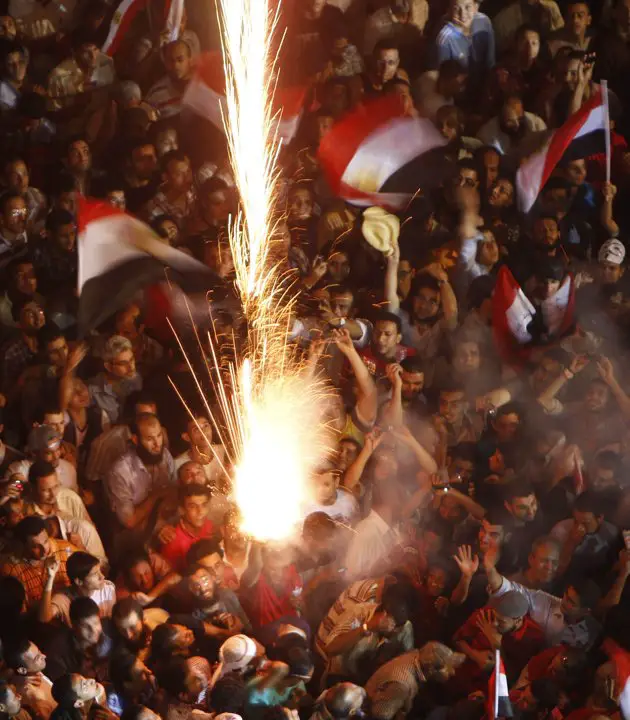 In a nod to his belief in the people's prevalence over the army, he read out an oath of office not in front of a high court — that official duty awaited him the following day — but in Tahrir Square, home to the revolution that swept Hosni Mubarak from power.
Unfortunately for Morsi and many, many others like him, the ruling generals stepped into the power void left when Mubarak fled and have yet to relinquish full power. Negotiations on that front continue. Pro-revolution forces are hoping that the high court will reverse the generals' decisions to dissolve Parliament and the constitution-writing panel.
But on Friday night, it was Morsi, a 60-year-old engineer who was educated in the U.S. and was a professor there for a time, that was the center of attention, the man elected by 51.7 of the people who voted in the runoff election, who held center stage.
Morsi, himself jailed more than once for protesting against the government and policies of Mubarak, promised to free protesters in Egypt and elsewhere. He promised to work hard to bridge the many gaps in his country: between Muslims and Christians, between rich and poor, between anti-government protesters and supporters of the military government. At one point while he was speaking, Morsi opened his jacket to show the crowd the absence of a bulletproof vest.

Social Studies
for Kids
copyright 2002-2014,
David White
---