Math, Science Study Gets High-profile Boost
---
November 24, 2009
Big Bird, famous CEOs, and the White House are teaming up to launch an initiative to improve American students' knowledge of math and science.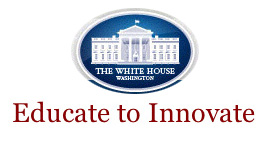 The Educate to Innovate program will devote more than $260 million in public and private funds during the next decade to helping students learn more about STEM – science, technology, engineering, and mathematics. Some famous names have been enlisted to help, among them:
Big Bird, Elmo, and other familiar faces on Sesame Street
Sally Ride, the first American woman in space
Antonio Perez, the CEO of Eastman Kodak
Ursula Burns, the CEO of Xerox
Glenn Britt, the CEO of Time Warner Cable
Craig Barrett, former CEO of Intel
Michelle Obama, First Lady of the U.S.
All of these people have pledged their support, in both time and money, to help American students learn more about the world around them, the way it works, and the way technology can change their lives.
The Educate to Innovate initiative will target both in-school and after-school activities. Time Warner Cable's Science Channel is planning commercial-free programming geared toward middle school students. Engineering and science organizations will provide support and encouragement for a nationwide focus on science in school laboratories, with the prime focus a National Lab Day, planned for May 2010.
Elmo, Big Bird, and the gang will get involved when Sesame Street, as a major part of its 40th-season anniversary, will focus on math and science as never before, with 20 of the 26 season episodes to have a prime component on science and math.
Also involved will be the Bill and Melinda Gates Foundation and the MacArthur Foundation, the latter of which will work with technology organizations to sponsor contests for students to create math and science projects.
Sony will donate 1,000 PlayStation 3 consoles to low-income schools, along with copies of the PS game LittleBigPlanet and an invitation for students to contribute data for an update of the popular game.
Click here for more.
---

Social Studies
for Kids
copyright 2002-2014,
David White
---