England to Trial Driverless Cars in City Streets
---
November 6, 2013
Driverless cars will be employed to city streets in England in 2015.
The electric vehicles, to be called "pods," will appear on the streets of Milton Keynes, in Buckinghamshire. The top speed is projected to be about 12 mph.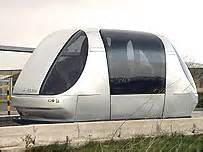 The cost for each ride will be 2 pounds (British currency). The cars will be able to carry two passengers and a corresponding amount of luggage, organizers said. Passengers will call for a "pod" and then pay for the ride by using a smartphone.
This will be a trial, with journeys initially planned only from the city's central railway station to a set number of destinations just one mile away, namely the main shopping centre and a few offices.
A combination of GPS trackers, ultrasonic sensors, and high-definition cameras will enable the cars to avoid obstacles along the way. A joystick will allow passengers to take control in an emergency. The cars will have their own lanes, but transportation officials are already planning for when dedicated lanes are no longer needed.
Carmakers Ford, General Motors, and Jaguar Land Rover have expressed interest.