Disney Takes Stand Against Junk Food
---
October 23, 2006
Mickey Mouse won't endorse sugary foods anymore. The Walt Disney Company has announced that its characters will no longer lend their images and endorsements to sugary breakfast cereals and other not-so-healthy foods.
In a new set of rules, the company founded by the famous Walt Disney himself said its characters and the Disney logo itself would go on snacks that get no more than 35 percent of their calories from fat. For main dishes, the restrictions are even more severe: 30 percent of calories from fat and 10 percent from added sugar.
This decision won't make itself felt immediately, however. Disney's current contract with food and drink makers runs through the end of 2008.
One change that will be felt right away is a radical alteration in the menus offered at Disney theme parks. More healthful offerings such as carrots, applesauce, low-fat milk, and 100 percent fruit juice will be not only offered but also stressed to kids and their parents. Main-dish foods will have trans fats cut out as well.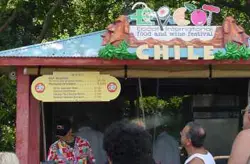 ---
Custom Search

Social Studies
for Kids
copyright 2002-2014,
David White
---