Dead Sea Scrolls to Appear Online
---
October 22, 2010
In an example of modern technology enhancing understanding of ancient technology, the Israel Antiquities Authority has announced that sometime soon, high-resolution images of the Dead Sea Scrolls will be available online.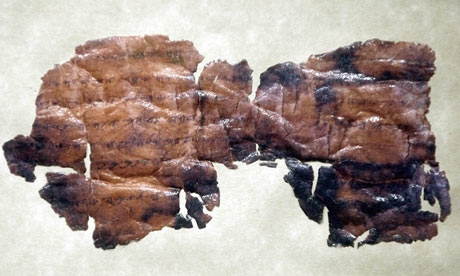 It is hoped that this will allow even further understanding of the fragmented, blurred pieces of parchment. Scholars think that the creation of a database and an English translation of the writings will certainly help in that regard. Infrared technology has already made more visible some sections that have been badly blurred by the passage of time.

The Scrolls, discovered by shepherds in 1947 near a settlement called Qumran, are considered by many to be one of Judaism's most significant finds after antiquity. The Scrolls, which are tens of thousands of fragments eaten away by the ravages of time, are currently kept in highly controlled environments to protect against further deterioration that would further obscure what was written on them centuries ago.

The oldest copies of the Hebrew Bible, along with other stories from Judaism's and Christianity's distant past, were written during a period of centuries, beginning in the third century B.C. and stretching into the first century A.D.

The Israel Museum in Jerusalem has several large bits of the Scrolls on display, under thick glass in a dark, temperature-controlled room. For many years, only a select few scholars had access to the Scrolls. However, the Scrolls were published in their entirety in the early 21st Century.

Most scholars think that the Scrolls were written by Jews belonging to a sect called Essene. The Scrolls — written in Hebrew, Aramaic, and Greek on papyrus or parchment — were found in 11 caves. Together, the nearly 30,000 fragments make up more than 900 manuscripts.
Graphics courtesy of ArtToday
---
Custom Search

Social Studies
for Kids
copyright 2002-2014,
David White
---