Creativity Driving College Tours
---
April 13, 2010
Universities are always looking for an edge, to get the best and brightest students to enroll in search of a degree in higher education. It's all about the presentation for many universities in America these days, with recruitment efforts embracing creativity.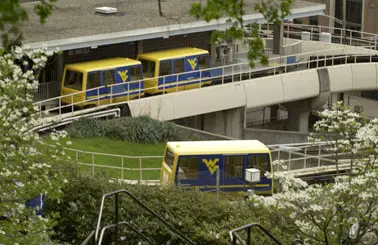 One university in West Virginia offers a full-service bus tour, which lasts three hours and features most aspects of the university experience, including the rest of the city in which the university's two campuses reside. It's a full-sale approach that university officials have found to work very well. What has put some prospective students over the top is a ride on the school's own monorail, which connects the two campuses.

One prominent West Coast university offers a self-guided camp walking tour as an application for iPhone. Another university, not too far away, was the first to create a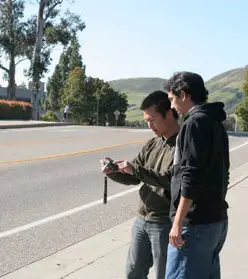 GPS device to help guide prospective students through a tour of the campus facilities. Approach a building and the GPS device, called the Ranger, identifies it by name and image and also boots up a student-narrated video description of the building and its facilities.

Oh, you can take a golf cart tour as well, to fill in the small gaps not covered by the iPhone app or the GPS device. The golf cart tour is quite popular, actually, at colleges and universities across the country,
especially for campuses that feature lots of space and/or lots of hills. One university in Utah boasts 560 acres (including lots of hills) within its boundaries, and many students who take advantage of the golf cart as a tour mechanism are glad they did. Most of that university's golf cart tours, however, are personalized to the prospective student but also guided by at least one member of university staff. One southern college wants everyone to know that its golf cart tours are done using electric cars.

Then there are the bicycle tours. Prospective students can certainly tools around on single-speed or otherwise small-scale two-wheeled contraptions, but one small college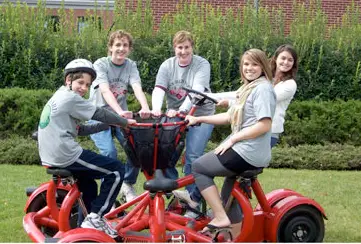 in New York offers a bicycle built for seven, which not only maximizes tour-giving resources but also reinforces the need for teamwork toward a common goal. This seven-person bike has been around for awhile now, and the first person to ride it was the college president. It's not uncommon for students or professors to trot up to the bike while it's on tour and plop down in a vacant seat for a bit of "the personal pitch."

Not to be outdone, one liberal arts college in Florida offers the opportunity to sell its marine science and environmental science programs by introducing students to both programs and the scenery influencing them via a boat ride in the adjoining bay. After a 30-minute waterborne tour, prospective students should have an excellent idea of whether that college is for them.

One thing that seems to be universal is the take-away memorabilia. A prospective student will almost never leave a campus empty-handed; more often than not, they leave with their pockets, arms, and several bags full of clothing, flyers, coffee mugs (good selling points if they also include quality coffee), and all manner of other things boasting the university name, logo, or representative animal.

Social Studies
for Kids
copyright 2002-2014,
David White
---