Christmas Trees Growing Strong Despite Drought
---
December 20, 2012
The severe drought in the United States didn't hurt the supply of Christmas trees.
The 2012 year-end figures from the National Climatic Data Center show that it was the 10th-most severe drought since 1895, with 54.6 percent of the mainland states being listed as high on the Palmer Drought Severity Index.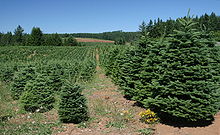 The National Christmas Tree Association, however, reported good growth, as trees that have been in the ground for a few years have had time to develop root systems that could sustain such a paucity of water. The NCTA, which speaks for hundreds of tree farms and dozens of state and regional tree-selling associations, estimates that Americans will buy up to 31 million Christmas trees this year, a figure that is in line with previous years. Many tree business owners around the country were reporting higher sales.
Officials did point out as well, that evergreens need less water than wheat, corn, and other crops that suffered horribly in 2012.
As many as 350 million Christmas trees are growing at any one time in the U.S. , on about 170,000 acres of land. Popular varieties include Scotch pine, Douglas fir, Noble fir, and white pine.
Oregon has for many years been the state with the highest number of Christmas trees grown. Other states growing very large numbers include North Carolina, Michigan, Pennsylvania, Wisconsin, Washington, New York, and Virginia. Every one of the 50 states has at least some Christmas trees growing.
Custom Search
Social Studies
for Kids
copyright 2002-2014,
David White
---