Japanese Leader Warns China over Disputed Islands
---
January 14, 2013
Japan's new prime minister has spoken out against Chinese actions in regard to a group of islands in the East China Sea, as the Japanese cabinet approved an increase in defense spending for the first time in a decade.
Shinzo Abe, elected in late December on a campaign promise to take a harder line with the country's neighbors, took the Chinese government to task both for harming Japanese business interests in China and for sailing Chinese ships through japanese territorial waters.
The dispute involves a group of islands that have a different name depending on which country is doing the talking. Chinese people called them the Diaoyu. Japanese people call them Senkaku. Japan ruled them from the early 20th century through the end of World War II, when ownership transferred to private citizens. China ruled them for hundreds of years before that.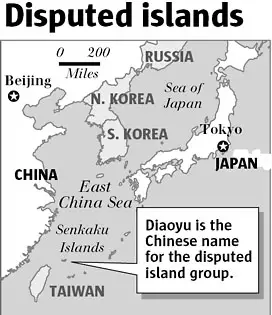 In September, the Japanese government announced that it had purchased the islands and declared national ownership of all of the assets on land, under the land, and in the surrounding waters. Large deposits of natural gas have been discovered on the islands, and the surrounding waters are rich with marine life.
Ships representing the Chinese, Japanese, and Taiwanese governments have patrolled the area in recent weeks. (Taiwan asserts a claim to the islands as well, through its historic position as part of China.) At one point ships from two countries traded shots from water cannons.
In December, Japanese officials said, a Chinese government plane flew threw Japan's airspace around the islands for the first time in 50 years. Similar actions occurred more recently, and Japanese fighter planes flew over the islands.
The dispute has hurt Japan economically. Last year, Chinese gathered in the hundreds in street protests, and the government urged its citizens not to buy Japanese products. As a result, sales of Japanese products, particularly automobiles, in China fell sharply.
For its part, the Chinese government is protesting the recent decision by the Japanese cabinet to increase defense spending, with statements by high-ranking government officials echoing that concern.
A high-level U.S. delegation is set to arrive in Japan next week on a trip that will also include a visit to South Korea, which recentlyelected its first female president.