China Appeals Islands Dispute to U.N.
---
December 17, 2012
China has upped the stakes in its dispute with Taiwan and Japan over a group of islands in the East China Sea, submitting to the United Nations a detailed documentation of why China should own the islands, its contents, and the waters surrounding it.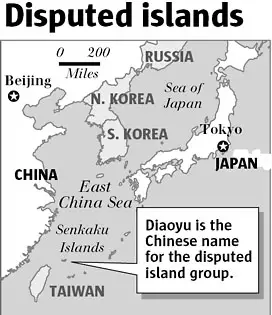 The islands, which China tall the Diaoyu and which Japan calls the Senkaku, have been at the center of a public war of words and actions between the three countries since the Japanese government announced that it had purchased the islands from private owners in September. The islands are uninhabited but are thought to contain rich mineral and gas deposits; in addition, the waters surrounding the islands are rich in fish and, some think, oil.
China's responses to Japan's announcement have included massive demonstrations on the streets of Chinese cities, a boycott of Japanese automobiles and other goods, and periodic nautical excursions into the waters surrounding the disputed islands.
Last week, a Chinese government plane flew within the islands' airspace. Japan reacted by scrambling fighter jets.
The Chinese claim to the U.N. is based on geographical features. The continental shelf that underpins mainland China and extends into the East China Sea extends to the Okinawa Trough, the Chinese claims asserts, and, therefore, China has a natural claim over the islands.
China's claim extends to the 14th Century, when China ruled much of that part of the world. Japan's claim extends to the mid-20th Century, when World War II-era Japan occupied the islands, the Korean Peninsula, and a large part of China. Taiwan's claim is an extension of China's claim.

Social Studies
for Kids
copyright 2002-2014,
David White
---