U.S. Affirms Japan's Claim to Disputed Islands
---
December 5, 2012
The U.S. has quietly backed Japan in a dispute over ownership of a set of islands in the East China Sea, and China is none too happy about it.
An amendment to a security treaty between Japan and the United States reaffirmed America's support for Japan's claim to the islands, which Japan calls Senkaku and China calls Diaoyu. (In addition, the other interested party, Taiwan, calls them by a third name, Tiaoyutai.)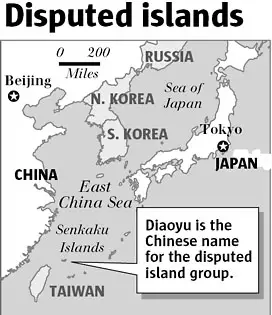 The dispute began a few weeks ago when the Japanese government purchased the islands from private Japanese owners and then declared the islands and the waters around them the property of the Japanese government. The surrounding waters are rich fishing waters, and the land contains recently discovered large deposits of natural gas.
The Japanese claim dates to the country's occupation of the islands in the first half of the 20th Century. China's claim dates to its occupation of the islands a few hundred years ago. Taiwan's claim is by extension to China's claim.
Spokespeople for the American government insisted that the support was for Japan's administration, not ownership, of the islands and that none of the three countries should resort to force to resolve the dispute.
The Chinese government strongly objected to the U.S. position, urging Washington to stay out of the issue altogether.